The UC Career Tracks (CT) job standards replaced the old UC Series Concepts for policy covered positions in May of 2018. Each CT job standard describes the scope, key responsibilities, and the knowledge, skill and ability requirements of the job levels within a job function. These job standards provide information that can be used to create or enhance job descriptions and are also used as job classification tools.
The UC Series Concepts are written job standards and guidelines for union-represented job titles. Each Series Concept contains a summary description of the series (a.k.a. job family), short descriptions of each level within the series (a.k.a. level-cutter descriptions), and minimum requirements. Some of the series are quite old, but the general guidelines still apply. There are system-wide series concepts and locally developed series concepts.

Job Standards
To access the Career Tracks job standards (UCSB netID is required):
Go to Google Drive
Use the hyperlink, above. Or go to www.google.com, and click on the Google Apps icon .
Click on the Drive icon: and then open the "Career Tracks Job Standards" folder, within "Shared drives"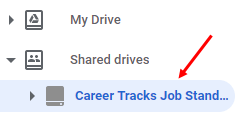 How to Locate a Job Standard
Use the Search Drive field, at the top of the screen, within the "Career Tracks Job Standards" Google Shared Drive. Either enter a search term, such as "Finance", or enter the name of a Career Tracks job family, job function, or a specific Career Tracks payroll title such as "Financial Analyst".
OR
Search Job Family folders: On the Career Tracks Job Standards Google Shared Drive there is a folder for each Career Tracks Job Family (Ex: General Administration, Student Services, Finance). Find the applicable Job Family folder.
Double click on a Job Family folder, and you will then see the job standards that are within that Job Family.
Click on a job standard to open it.
Not sure of which Job Family folder to search, or what payroll titles are available within a given Job Family? The Career Tracks Title List (Excel spreadsheet) can be used as reference tool to look up payroll titles, Job Families, and Job Functions. Download the Career Tracks Title List to enable the spreadsheet's filters, so that the contents are searchable.
Job Standards (Google Drive Folders)
Job Standards (Excel List)

System-wide Series Concepts
"Series Concepts" are written job standards and specifications for the various job families that we use at the University of California. The UC Office of the President maintains a near-complete listing of these specifications for use by all the campuses. You can search for series concepts by keyword, title name or title code at the location above.
Please note: Job Standards/Series Concepts for titles that were initially created in Career Tracks but later accreted into a union can be found on the UC Systemwide Series Concepts site above (examples are BTSA, Couns Psych and Student Health Physician).
UCSB Only - Local Series Concepts
The following series concepts have been developed specifically for UCSB: