Click on an Easy Action Step to Explore this Page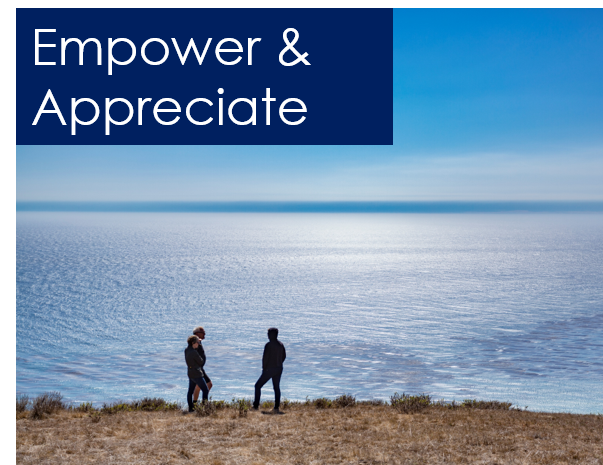 Empower + Appreciate
Feeling empowered and appreciated by colleagues and the organization is important to the university.
Here are some easy action steps:
Send a thank you note

Nominate co-worker for an award

Explain the reasoning behind task delegation

Listen to your coworkers' suggestions

Say "great job" to a hard-working coworker

Say "thank you" if another employee helps you

Learn something new about each of your co-workers

Remind a co-worker that you appreciate their hard work

Take the time to say "good morning" to at least a few people in the office

Send note to your superior complimenting a coworker

Read book to enhance job skills; many free books are available from the university's library

Encourage others to create an environment of appreciation and gratitude by saying "thank you" and recognizing work well done.

Encourage co-workers to visit the LearningCenter website for professional development opportunities and use other resources to participate in professional development

Host a lunch time or post work celebration for holidays or to acknowledge departments achievements

Post information about how to nominate co-workers for organizational or department awards

Talk to leadership in your department about ways to let co-workers give suggestions for improving the workplace and how to implement them as appropriate

Encourage leadership to communicate the rationale for task delegation and explain the reasoning behind processes

Have panel discussions or invite speakers to discuss issues of cultural and racial diversity with the entire department

Encourage recruitment of racially and culturally diverse individuals

Explore specific ways to improve diversity and inclusion on campus or in your community

Find specific ways to give back with community service opportunities in your area
Be Active
Physical activity and movement is encouraged and supported during the workday.
Here are some easy action steps you might want to try. Don't forget to consult with a doctor before you engage in any new physical activity:
Walk or bike to work

Take a coworker on a walk

Participate in lunch time physical activity classes

Park an extra block away from the office or grocery store

Keep exercise equipment in the office (e.g., weights, yoga mat, running shoes)

Dedicate 5-10 minutes each day to practicing yoga/office stretches

Take the stairs instead of the elevator whenever possible

Track your physical activity using a pedometer or odometer

Use a walking trail to explore different parts of campus like the meditative UCSB labyrinth, North Campus' Open Space, or around the lagoon. Other walking paths are linked here, here and here

Set a calendar reminder to take stretch breaks throughout the day.
For Supervisors:
Encourage employees to take lunch time walks or participate in physical activities

Engage your department in a walking/pedometer step challenge or other organized activity

Encourage co-workers to stand or walk while they are on the phone

Encourage co-workers to take micro breaks (30 seconds to 5 minutes) during the day to move and stretch

Try changing one meeting a week to a walking meeting and encourage co-workers to do the same
Work Healthy
Ergonomics and technology are encouraged and supported to help us move, be healthy, and do our jobs better.
Visit the Learning Center and take the UCSB Online Ergonomic Training & Assessment

Contact the campus Environmental Health and Safety office or website for assessments or information on how to construct an ergonomically sound workplace for various workstations, or request an evaluation.
Work-life integration
Work-life integration programs and resources support all aspects of our lives (work, family, and community).
Here are some easy action steps:
Plan out your daily exercise in advance

Schedule "my time" during the week

Talk with others about expectations

Plan out your weekly schedule and include time for family or friends

Include designated relaxation time in your schedule

Meditate; you can download free apps like

Schedule one thing you look forward to each day

Manage and prevent stress; find resources and support from the UCSB Academic & Staff Assistance Program (ASAP)

Create a backup plan in advance for when emergencies happen (e.g., bad weather, child getting sick). Bright Horizons may be able to assist.

Take notice of activities that have minimal value to you and cut them out of your schedule

Organize an occupational stress workshop for your colleagues/direct reports; find workshops from ASAP

Flexible work arrangements may be available for you and/or your employees. Use our resources on flexible work arrangements

Understand the leave time you have earned. Learn more about the leave you may accumulate.
For Supervisors:
Encourage flexible working schedules where possible.

Encourage employees to participate in one of the ongoing Faculty & Staff wellness classes.

Designate a private space in your department as a lactation room for nursing mothers (visit https://www.hr.ucsb.edu/hr-units/employee-services/lactation-support-program to learn how)

Organize a 30-minute before work or lunch-time meditation or yoga practice for your department. Find a quiet room for employees to comfortably sit. A person can guide the meditation, or you may try one of the many free apps that provide guided meditation and breathing exercises.

Encourage employees to take mini mindfulness breaks at their desk throughout the day. The 3-minute breathing space is a great example of a mindfulness break.

Provide time for employees to learn more about work-life balance/life-skills through ASAP, Faculty & Staff Wellness, Work-Life, and more.

Have regular meetings with employees to determine ways to reduce stress at work

Acknowledge and encourage the variety of dimensions and life situations that exist in your employee population
Eat well
Healthy food options, programs, and resources are available to support employees in eating well. [swipe right to see article]
Here are some easy action steps. Please make sure to consult your doctor before changing your diet:
Challenge yourself to drink an extra glass of water today!

Eat breakfast

Ask for healthy snacks at meetings

Eat lunch away from the computer

Put away the candy bowl

Visit a local farmers market or sign up for the CSA at UCSB

Try a new vegetable or fruit this week
For supervisors:
If you can, obtain sufficient refrigeration space for all employees

Organize healthy potluck meals at work

Create a bulletin board or shared folder to share healthy recipes with co-workers

Ask meeting and event planners to have healthier snacks or meals

Replace clear candy jars with opaque covered containers

Choose healthier foods/snacks in vending machines and encourage others to do the same

Make fresh drinking water available with a water cooler or water filter on at least one faucet

Encourage employees to bring reusable drinking cups/bottles instead of using disposable water bottles

Bring in healthy snacks like nuts, fruit, carrot sticks, hummus, etc. and encourage others to do the same

Develop a shared cleaning schedule for your break area if cleaning services are not provided

Put a fresh fruit bowl in the break area, and encourage others to add to it or contribute money to purchase new food regularly

Use non-food items as rewards at meetings like gift cards, flowers or balloons

Become familiar with the many healthy food options around campus: